Our services
Granulometric analysis : Laser Granulometric analysis :
Mineralogical analysis : X-ray diffraction
Elemental analysis : X-ray fluorescence spectrometer
Our equipment
The  Bruker D8 Advance X-ray diffractometer, for phase identification in the following areas :
Aluminium
Pharmaceuticals
Polymers
Hydroelectric dams
Archaeology
Chemicals
Glass
Cement
Ceramics
Environmental analysis
Mineralogy
Metals
The Bruker S4 PIONEER X-ray fluorescence spectrometer, for the identification of Beryllium to Uranium chemical elements in the following areas :
Liquids (water, oils etc.)
Rocks
Minerals/mines
Gold
Ceramics
Metals
Glass
Polymers
Pharmaceuticals
Very tiny metal parts
Metal chips
The Fritsch Laser Particle  Granulometer
The Laser particle sizer (granulomter) is an indirect measurement technique commonly used to determine the size distribution of powdered granular materials between 0.08 and 2000microns in a relatively short time (about 4 minutes per sample).  This laser granulometer analyses the powder sample in dry or wet conditions.)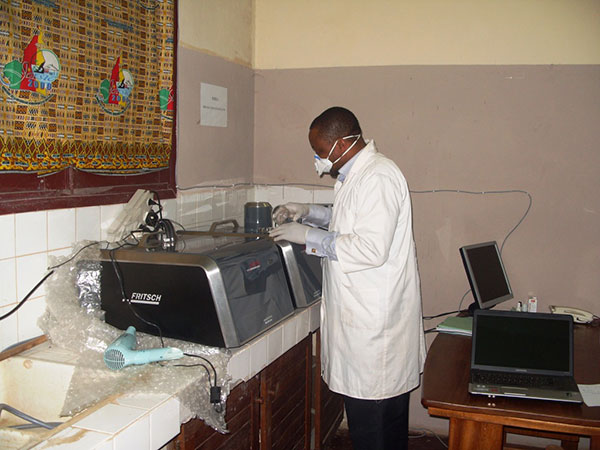 Sugar industry
Powder production line Control,
Cement industry
Toner production industry
Quality control in food industry
Particle analysis,
Mineral materials, etc.