The vocational training diploma course is supervised by MINEFOP and takes place over a period of one (1) year, i.e. a first semester of three (3) months of theoretical courses, a second semester of three (3) months of technical training and three (3) months devoted to professional internships and end of internship write-ups. The public defence and written examination are required to obtain the Vocational Qualification Certificate (VQC). At the end of the training, students are expected to design a business creation project using local materials, under the coordination of an expert. After selection, the administration will fund the best projects.
Courses
The Vocational training diploma course is organised around four (4) courses:
1-MATERIAL PRODUCTION
Specialty: Production of bricks, Pottery and Fine Ceramics; Pre-cast concrete and ashlar..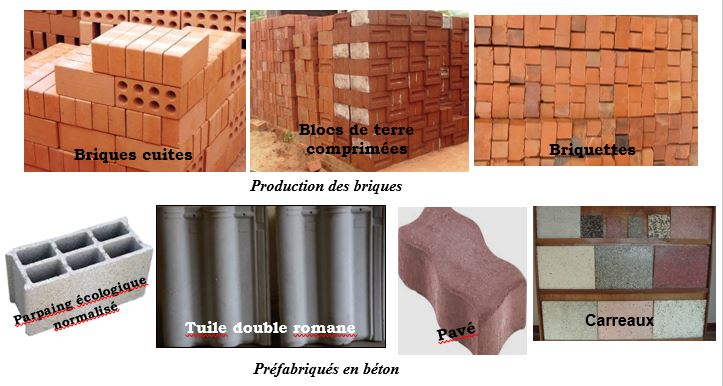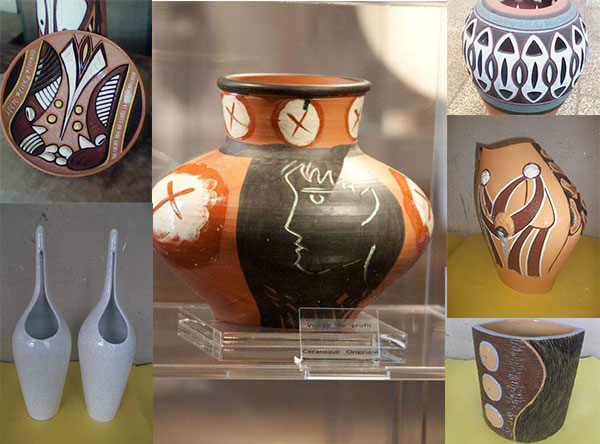 Pottery and fine ceramics
 2-BUILDINGS, ROADS AND ENGINEERING STRUCTURES
 Specialty:
Buildings ;
Roads and engineering structures.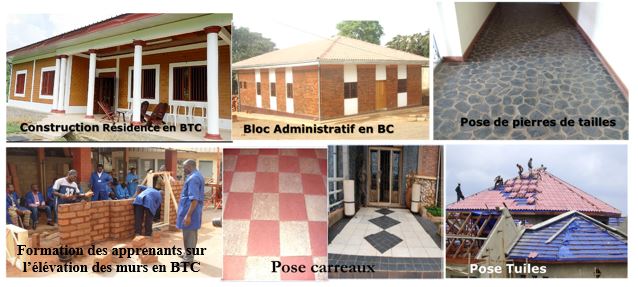 3-MECHANICAL MANUFACTURING
Specialty: Manufacture of production equipment with local materials.

4-ECOLOGICAL CONSTRUCTION
Specialties:
(a) Bioclimatic architecture;
(b) sustainable housing design and planning;
(c) Energy efficiency in buildings.

Application for admission
The academic and professional year starts in December every year. To apply, please compile and submit your application file at the SVTC of MIPROMALO, located at Nkolbikok, Monté du Parc, Yaounde, or send it by e-mail to  This email address is being protected from spambots. You need JavaScript enabled to view it..
Component of the application file:
A stamped handwritten application addressed to the Director General of MIPROMALO;
A photocopy of national identity card;
A photocopy of birth certificate;
A photocopy of diploma or transcript;
The student's application form filled in by him/herself; (Download this form here);
A detailed curriculum vitae;
Two 4x4 photo ;
A copy of receipt showing registration fees paid to MIPROMALO's Accountant;
If this file is sent by e-mail, the hard copy must be forwarded to the SVTC by the start of the training.
Training scholarships 
Under the partnership between MIPROMALO and MINEFOP, MINEFOP grants vocational training and apprenticeship scholarships to the SVTC of MIPROMALO in the following specialties :
N°

Specialty

Level Required

01

Technical production and laying of fired bricks 

CAP/BEPC/BAC

02

Production and Installation Technique of Micro-Concrete Materials ( Roofing Tiles, Floor Tiles, Balusters, Pavers, Claustras, Stone).

 

CAP/BEPC/BAC
Requirements:
Cameroonian nationality;
Be at most 14 years ;
Have the required level for the chosen speciality;
Be enrolled in MIPROMALO's SVTC for the training year 2021-2022.
The registration fee is 20 000FCFA.
MIPROMALO-MINJEC SCHOLARSHIP
Under the partnership between MIPROMALO and MINEFOP, MIPROMALO offers vocational training scholarships to Cameroonians registered at the National Youth Observatory in the 10 regions of Cameroon.
Interested candidates are invited to contact MIPROMALO's Specialised Vocational Training Centre (SVTC), located at the Head Office, Montée du Parc National in Nkolbikok - Yaounde, for more information contact: (Tel: (237) 22 22 94 45/691 142 552).